Let the word of Christ dwell in you richly, teaching and admonishing one another in all wisdom, singing songs and hymns and spiritual songs, with thankfulness in your hearts to God.
Music has a special way of staying with us, greater than any other form of communication! And when it is combined with the Word of God, it's a great benefit and blessing not only to the children of God, but also to those who are yet to be a part of the family of God. It's our hope and mission here at Saint Paul that if music has, is, or you hope will be a part of your life and faith walk with Christ, that you can share and bless our community with your gifts and talents, and in so doing praise our Maker, Redeemer, and Sanctifier.
Arkay grew up on a farm near Gowrie, IA, and graduated with a Bachelor of Music degree from Iowa State University in 2003. She and her husband, David, have two children and have been members of St. Paul since 2010. Arkay directed high school bands from 2003-2010, then stayed home 9 years to be with James and Anna, and most recently became the Music Director at St. Paul in 2019. In addition to music, Arkay loves spending time with her family, being outdoors, and baking. She is very thankful to be able to use her love of music as a ministry to share the gospel and Christ's love with others.
Rhonda's church music experience began when she was in 7th grade. The Lutheran School Principal/organist trained 'new' organist by having them play the offering, offertory, final hymn and postlude. After confirmation you were allowed to play for the entire service. Rhonda has served as organist and choir accompanist at St. John - Hanover, IA before she and her late husband moved to Urbandale in 2011. She has helped provide organ music at St. Paul - Alta, St.John -Storm Lake, Grace Lutheran- Storm Lake, Mount Olive and Gloria Dei - Urbandale. During her 54 years of serving God throughout music, Rhonda has played piano and organ for many weddings and funerals as well as other special church and community events.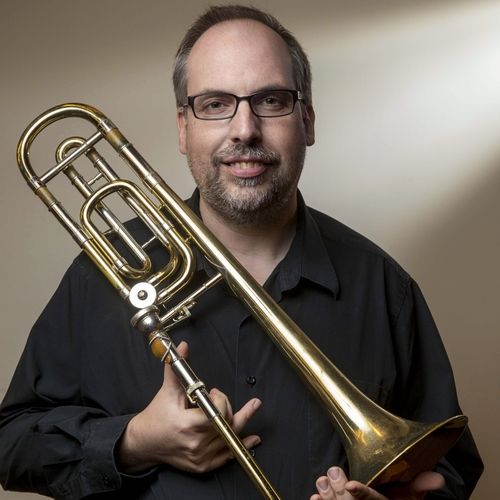 Alleluia Ringers Handbell Director
Jon Jero served as director of music for St. Paul Lutheran Church in Des Moines for 12 years. He currently performs on trombone around Iowa with three different musical groups and is the director of the Alleluia Ringers adult handbell choir at St. Paul.
The choir is currently around 30 members and new adult and high school age youth are warmly welcomed! Rehearsals happen Wednesday evenings from 6:30-7:30pm in the choir loft. We generally sing once a month for Sunday morning services as well as for special dates and holidays.
Alleluia Ringers Handbell Choir
The Alleluia Ringers generally have 9-12 members and rehearse on Wednesday evenings from 7:45-8:45 pm in the choir loft. All adults and high school age youth are welcome to join. Previous music reading experience is very helpful, but not required. The Alleluia Ringers play generally once a month for Sunday morning services as well as some special dates and holidays.
We have many opportunities for individuals and small groups to serve on the music ministry during our Sunday services. Anyone is welcome to set up a time to meet with Arkay Brown, our Music Director, and begin preparing to sing or play during a Sunday service that fits your schedule. Pease submit a "Music Signup Form" by clicking below, and Arkay will contact you. She will assist you in finding music and an accompanist if needed, as well as rehearsing and securing a date to serve.
Our Saturday Evening Worship Service features contemporary music. We use a combination of lyric videos, keyboard and sometimes a small group of musicians. If you'd like to be a part of this service please contact Arkay Brown.
Want to serve in music Ministry?
We would love to see you use your gifts and talents in service to God and His Church! Please let us know how you would desire to do so.
JOin us for Tuesday Jam Night! Currently postponed
This is an evening of fellowship, music, and fun with church family and friends who want to make some music-- it's not a performance, and people of all ability levels are welcome! We help each other learn tips and tricks along the way. We meet in the Family Life Center of Fellowship Hall from 6:30-7:30 pm. Music/chords will be available for guitars, keyboards, and voices. Any kind of percussion is welcome, too! If you play another instrument and would like to join, please contact Arkay Brown so music can be created in the right key for you.
Students who are enrolled in the St. Paul Midweek Program during the school year have a half an hour of music time each Wednesday evening. Students sing favorite worship and praise songs as well as learn new ones. Dates are planned a couple times a year or more for these students to share songs during our Sunday worship services and be a part of the music ministry.
Want to Get active in Music Ministry?
Write and encouragement, question, or prayer and we'll connect you via email.